Have a question? Speak to us on WhatsApp on 01757606366
Joy's Bella Bridesmaids is an award winning exclusive boutique dedicated to the special friends and family who you have chosen to be your bridesmaids. My promise is to look after each and every bridesmaid to ensure the experience of choosing their dress is relaxing and enjoyable.
Browse the ground floor where you will find a large collection of designer dresses from Motee Maids, Abbie Jade, Sorella Vita, Dessy and OnlyWay Bridesmaids.
With over 300 different styles in store that all come in a huge range of colours, I'm sure you will find something you love! The sample dresses we have to try range from UK6 up to UK 24 but we can supply dresses outside of this size range. If you have flowers girls and teen bridesmaids in your wedding party we also have a selection of dresses for them too.
The first floor is dedicated to trying and fitting with spacious changing rooms as well as a comfortable seating area for you to relax and have fun with your bridesmaids choosing the right style, fabric and colours.
There is plenty of complimentary car parking directly outside the shop, located in a peaceful rural location, often brides think they're heading in the wrong direction but I promise it is down that country lane!
Although some appointments may be available to walk in I do usually work an appointment only basis.
Hi! I'm Hannah and I own Joy's Bella Bridesmaids.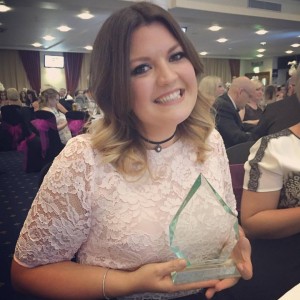 I have put off writing about myself on my website for two years, but it's the first thing I read when I'm browsing other websites so I thought I best jot something down! Many of my lovely brides ask why I started the business and it came from my own experience as a bride and as a bridesmaid. I got married in May 2015 and my sister married in January 2014, throughout the planning of both weddings we really struggled to find bridesmaid dresses. We had amazing bridal experiences choosing our dresses and wanted our bridesmaids to have a similar experience. Having chosen my sister and four of my closest friends, I wanted to have this amazing time finding the perfect dresses for them but we struggled to even find somewhere to buy them from! I decided there must be a better way to do things and I feel I have now created this experience at Joy's Bella Bridesmaids.
I love each and every appointment I do, getting to know the brides and bridesmaids whilst helping bring their ideas to life! Being part of such a special time is so important to me, I remember every bride that has bought her dresses from me, the style they chose and in which colour. Having graduated from University in 2012 with first class honours in International Hospitality Business Management and working as an Events and Reservation Manager until opening the shop in September 2015, I am now making my dream into a reality.